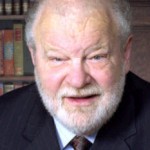 "Dean of Pacific Northwest economy watchers."  — Seattle Times
Professional speaker on matters economic, especially about the Pacific Northwest. Inquire about rate and availability.
Editor, publisher and owner, Marple's Pacific Northwest Letter, February 1977-August 2009. (The letter ceased publication in March 2013.)
In the past, an occasional guest on the talk show Weekday on Seattle's NPR station, KUOW.
Latest posts at right. E-mail: mjp[at sign]michaeljparks.com or cohomike[at sign]gmail.com; phone 206 261 6050.
I love to read and learn. I like to quote briefly here from articles I find especially insightful.
Conventional bio:
Michael J. Parks has been studying, writing about and speaking about the economy and companies of the Pacific Northwest for more than 35 years.
Parks joined The Seattle Times in 1967. He became the newspaper's financial editor in the early 1970s. He moved to Marple's Letter in 1977. Parks was owner, editor and publisher of Marple's Letter from March 1980 to September 2009, when he was named editor emeritus. The newsletter ceased publication in March 2013.
Parks, a native of Spokane, Washington, is a journalism graduate of Seattle University, and an alumnus of the University of Washington's School of Communications. He is an amateur economist, self-taught.
Parks speaks frequently on the outlook for the Pacific Northwest economy for a wide variety of financial, business, professional and service groups, as well as in the classroom.