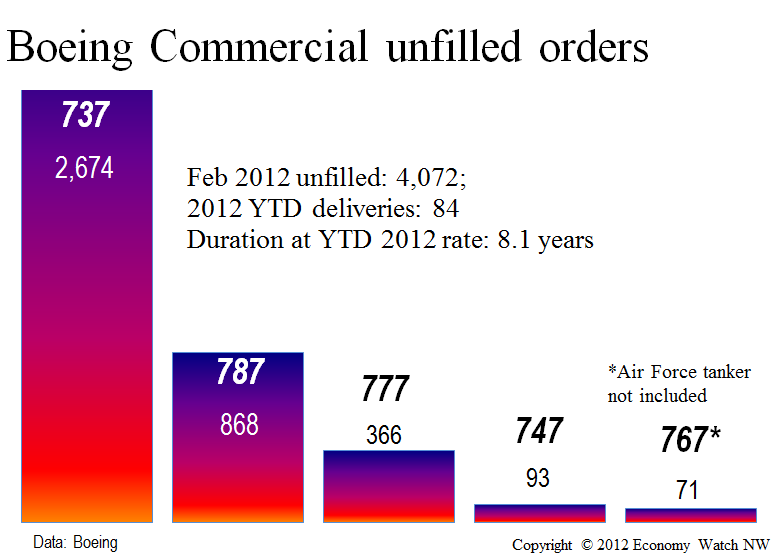 [Updated March 20; see below]
Is Boeing's bulging backlog a figurative block of Swiss cheese, full of holes? It isn't if Boeing's own figures are reliable. The excess of orders over deliveries at the end of February 2012 reached more than 4,000 (data and chart updated March 18).
Simple math shows it would take Boeing more than eight years to run through its order book at current production rates.
Nothing is simple in this business, of course. Both Boeing and Airbus are scrambling to increase production as fast as they can.
How firm is the backlog? For the first time in this cycle*, a person with strong credentials suggests that backlogs at both Boeing and Airbus have something in common with U.S. housing markets in the mid-2000s.
Here's the shot from the top man at the globe's third-largest aircraft-leasing company:
Clearly there is a vast amount of over-ordering… Is it realistic that a small airline in Indonesia is the largest customer of the world's largest exporter?
The reference is to a 230-plane order worth nearly $22 billion at list prices announced in mid-November by Lion Air of Jakarta. Quoted in a Wall Street Journal article Feb. 23 is Aengus Kelly, chief executive of Netherland's based AerCap Holdings. It owns 350 planes, making it the third-largest lessor of commercial aircraft after General Electric and American International Group's ILFC.
Kelly also expressed skepticism about the recent Norwegian Air Shuttle order for more than 200 planes, 122 from Boeing. Worth more than $22 billion at list prices, the order is said to be the largest ever by a European carrier. Norwegian is a new low-cost carrier. Kelly told the Journal he doubts Europe's established low-cost carriers, Ryanair and easyJet, will allow a large competitor to emerge on their doorstep.
Boeing backlogs have collapsed before, notably in the late 1960s when the 747 was new and again in the late 1990s. I have to respect Kelly's opinion. It is way beyond my pay grade to know if his call is right. Higher oil prices, it seems to me, provide support for the backlog. Today's planes were not designed for $100 oil, much less $150 oil or even $300 oil that we might get if Iran tries to close the Strait of Hormuz.
* The first mention of this idea that I saw was in The Wall Street Journal Feb. 23. Nearly a month on, The Seattle Times, where I once worked, is catching up. see its article here.