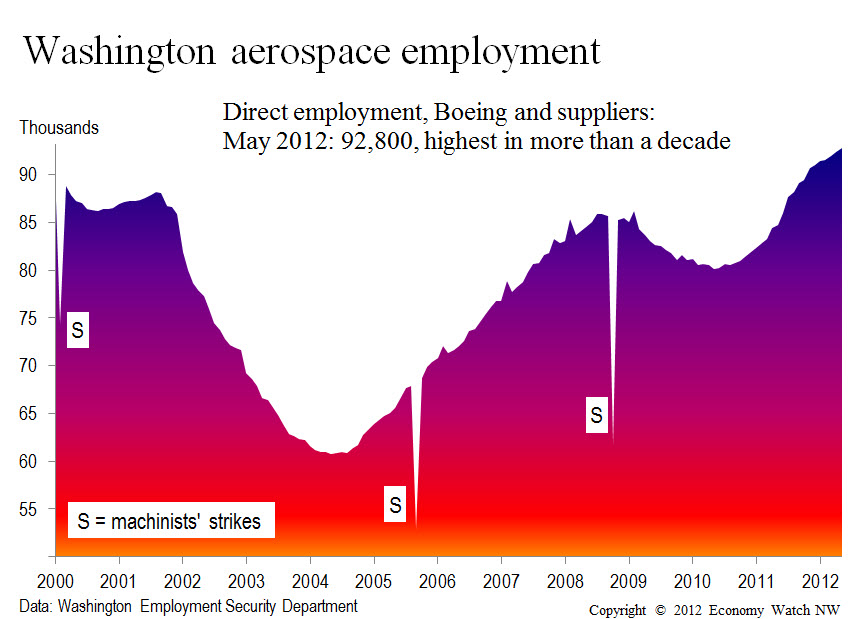 If you live in the Seattle area, savor this time. It seems to me you and I live in a lush oasis of relative prosperity, surrounded by a grimy desert of gloomy economic news. There are no guarantees. Enjoy it while it lasts.
Boeing is booming. Aerospace employment in Washington (Boeing and suppliers) has soared by more than 23% (at a rate of 750+ a month) since the bottom of the cycle in May 2010.
And the cycle hasn't peaked. Excellent coverage by Dominic Gates of the Seattle Times indicates Boeing would like eventually to push production of various 737 models from today's roughly one a day to as many as two a day if suppliers can keep up.
Machinists and others should get more efficient as production ramps, but Boeing still will require many more pairs of hands at Renton, where roughly 10,000 now work. The employment outlook is positive as long as the global economy doesn't crash.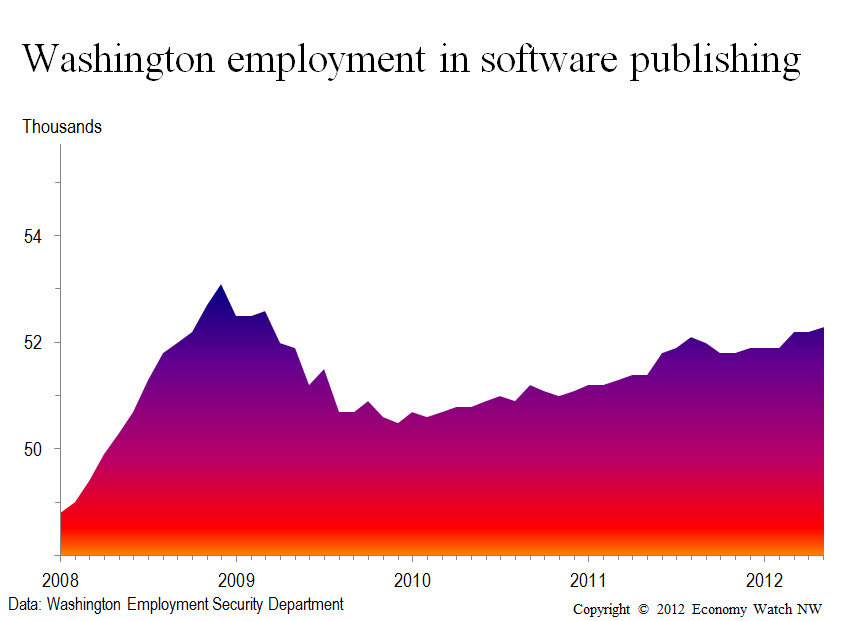 Spooked by regular machinists' strikes, Boeing years ago moved its headquarters to Chicago. From there, it orchestrated a radical departure from its traditional business model, outsourcing major components of its newest airplane. The experiment proved disastrous. Even with a new non-union production line in South Carolina, Boeing is having trouble delivering 787s. Development cost many billions more than estimated.
Against that background,  two years ago, at the Farnborough air show, a senior Boeing executive was quoted in the Seattle Times as saying: "I love Renton." Talk is cheap. But in retrospect, it is clear to me that Boeing senior management has come to value Puget Sound-area operations, including Everett, where wide-bodies (787, 777, 767,  747) are assembled, as the company's heart and soul.
Boeing looks to have come out of the biennial Farnborough air show a winner, with orders and commitments for 396 planes worth $37 billion at list prices, roughly double the Airbus total. (Some of that, as Gates of the Times reported, is mere air-show buzz, reflecting only the naming of customers whose orders already were on the books.)
Jobs at Boeing and its suppliers are some of the best-paid in Washington's economy. The Washington Employment Security Department's Quarterly Census of Employment and Wages (QCEW) puts the average weekly wage in "transportation equipment manufacturing" at $1,771 in last year's third quarter, an annual rate of $92,092, 75% above the statewide average weekly wage.
Meanwhile, Microsoft and its peers in Washington's software-publishing sector continue to add to payrolls. After years of rising at or near double-digit rates, employment in this sector fell by 4.8% (2,600 jobs) starting in December 2008. The subsequent recovery has pushed employment up 3.6% (1,800 jobs) from the recent low.
Not everyone who works at Microsoft makes a six-figure income. But enough do to make an enormous difference in Washington's economy. Average weekly earnings in Washington "publishing industries except internet" were $4,907 as of Q3 2011. That's not a misprint. That's an average annual wage of more than $255,000. That's not quite five times the statewide average weekly wage of just over $1,000.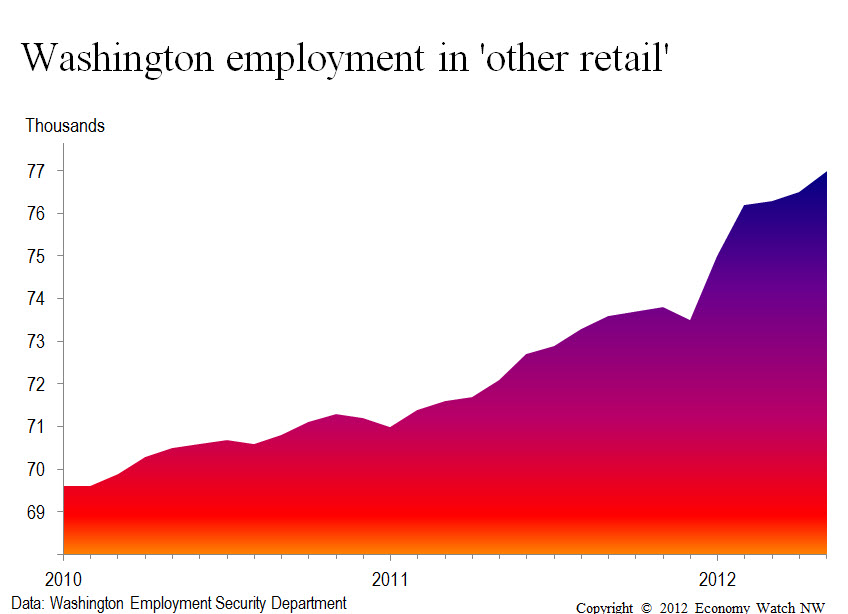 And Amazon.com is booming. As I write, it lists several hundred job openings in the Seattle area on its web site. Just how many people work at Amazon.com headquarters and other sites in Washington state is a closely-guarded secret.
The nearby chart shows that employment in a category labeled "other retail" in Washington's monthly employment reports has surged by 10.6% since the beginning of 2010, amounting to 7,400 new jobs, or roughly 255 a month.
These are almost certainly mostly Amazon.com employees. The tip-off is high pay. In Washington's quarterly wage census, average weekly pay of "nonstore" retailers in 2011's Q3 was $1,665. That's almost three times the average for retail in general.
Nothing lasts forever. A deep slump in the global economy could eviscerate Boeing's backlog; it wouldn't be the first time.
But as long as oil prices remain elevated, Boeing (and for that matter Airbus) should do well. Today's aircraft were not designed for a world of $100 a barrel oil.
Microsoft head count in the Seattle area may have peaked. As I write, Bloomberg is reporting layoffs at Microsoft. Yet software employment should continue to grow.  In a report published in print July 8, the New York Times noted that iconic Silicon Valley names — Google, Facebook and Zynga — have set up shop in the Seattle area, in part to snag University of Washington graduates who prefer the Northwest's lower housing prices and Washington's lack of an income tax. No doubt they also are trying as well to snag Microsoft's best and brightest.