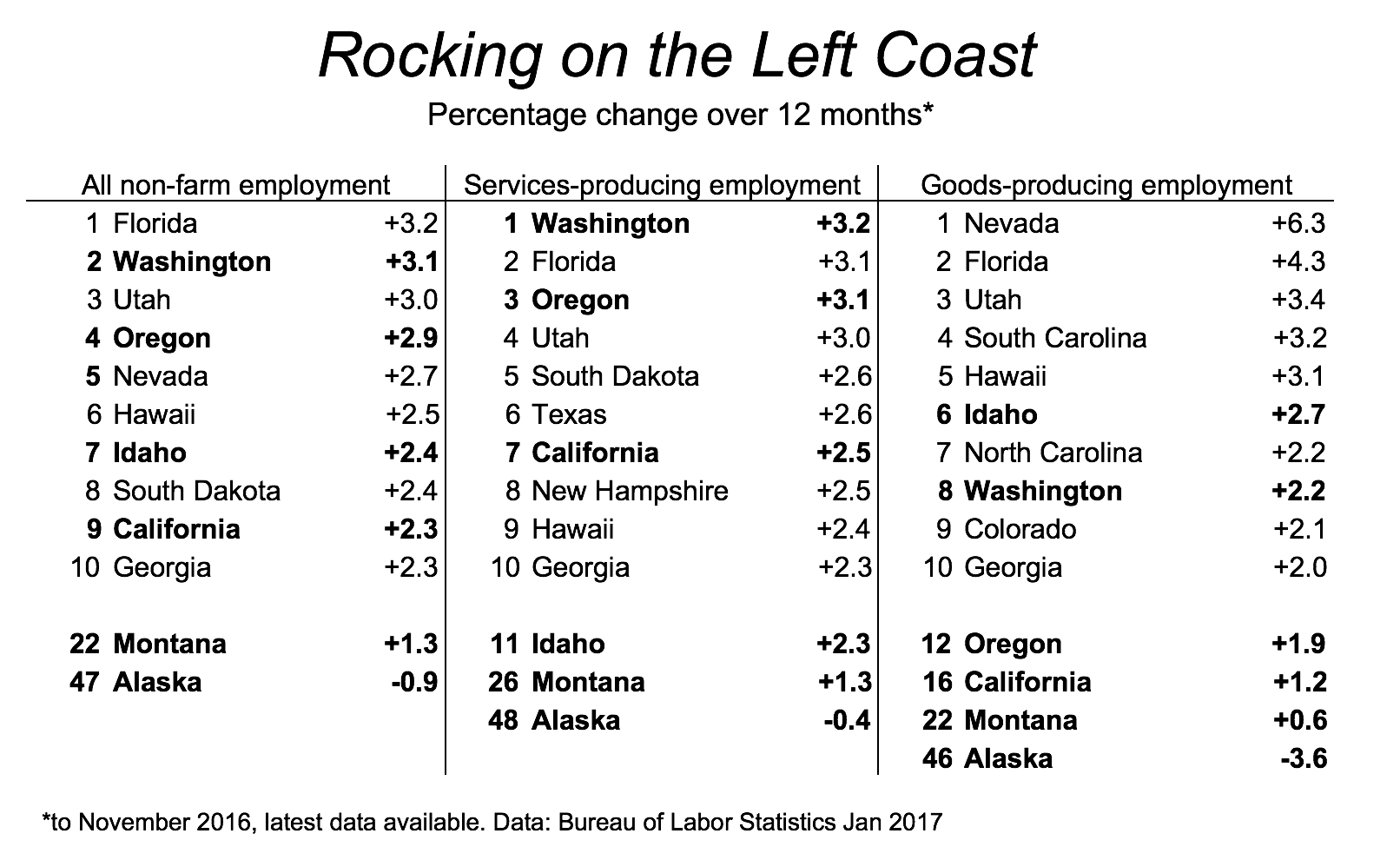 It's winter outside — cold, snowy, wet. But when it comes to the economy, especially as measured by employment growth, there's a heat wave on the West Coast (aka the Left Coast). Washington and Oregon, in particular, are mucho caliente.
Employment in the services-providing sectors grew faster in the Evergreen State than in any other state in the 12 months to November (Table 1). Oregon came in at No. 3 among the states. California ranked No. 7. Idaho just missed the Top 10.
The service sectors comprise everything except manufacturing, constructing and mining. Services-providing sectors, including government, account for about 85% of all payroll employment.
As for growth in all non-farm employment, Washington ranked No. 2 and Oregon No. 4 for 12 months through November (the latest available data as of this writing). Idaho (7) and California (9) both hit the Top 10.
In the goods-producing sectors, relatively small states dominate the top positions, at least in part because it is relatively easy to show a large percentage increase from a small base. Idaho at No. 6 falls into this category. Washington ranked No. 8. Oregon (12) and California (16) were not far behind.
Of states in the Top 10 in goods-producing, only three — Florida, North Carolina and Georgia — have larger work forces than Washington. Pay is relatively high in these sectors, especially in manufacturing and construction. Together these sectors account for about 15% of all payroll employment in the U.S. and in most states.
As the table shows, Montana comes in about average in these measures. It is no surprise that Alaska ranks near the bottom. The lower rungs of all three lists are dominated by energy-producing states, including Louisiana, North Dakota, Oklahoma and Wyoming.