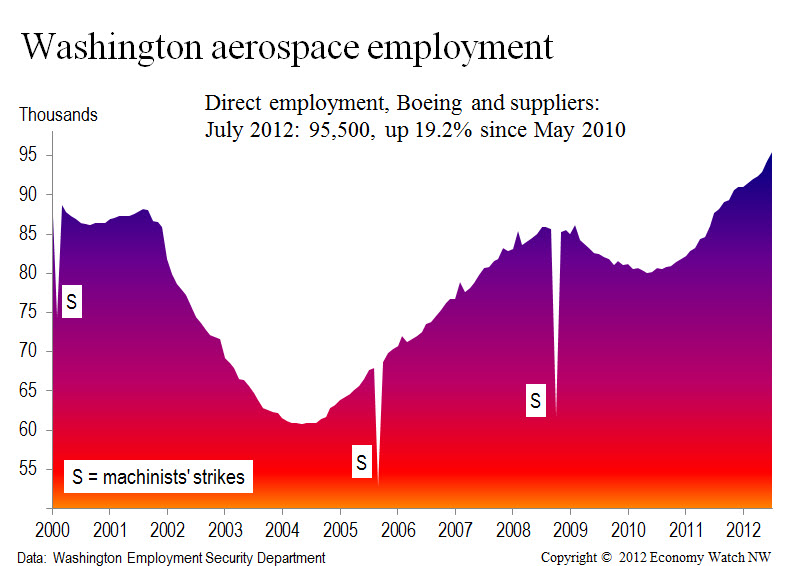 Subjects addressed during my stint on KUOW's Weekday program Aug. 29:
The Qantas cancellation of Boeing 787 orders is a reminder that despite long lead times — years between orders and deliveries — Boeing is subject to short-term swings in the global economy.
The decision says more about Qantas than Boeing. Qantas lost $255 million in the fiscal year to the end of June, its first loss, reports the Financial Times, since it was privatized in 1995. The Wall Street Journal noted that with its base deep in the southern hemisphere, Qantas is an "end-of-the-line carrier . . . more exposed to high jet-fuel costs" than competitors. Other Qantas hurdles include a strong currency and stiff competition from Middle Eastern carriers such as Emirates.
With 7+ years still in Boeing's order backlog, including more than 800 787s, it is too soon to hit the panic button. But it is not too soon to take note of numerous warning flags. Europe is in recession; China is slowing dramatically. Boeing is still struggling to deliver fuel-efficient 787s more than three years late. If the backlog turns out to be like a block of Swiss cheese, full of holes, it wouldn't be the first time.
Not to worry, says Scott Hamilton of Leeham Co. LLC, the aviation consultant. He quotes Bernstein's Doug Harned to the effect that few 787 delivery slots are available until 2019 (!). Hamilton says Boeing could sell the Qantas slots, or simply use them to "close up" the production schedule and reduce delivery delays to other customers (see his blog post here). (Hat tip to Marple's editor Jim Murez for calling my attention to Hamilton's observations.)
In terms of Boeing employment and production, the stakes couldn't be higher for the Seattle metropolitan area's economy. Direct employment at Boeing and suppliers in Washington has risen by more than 15,000 (19%) (chart) since the cyclical low May 2010, and these are some of the best paid jobs in the economy.
Boeing employment regularly goes up and down by thousands during the course of a cycle, as anyone who has seen a long-term chart of aerospace employment knows. Only time will tell whether we are at the crest of this cycle's wave. I am frankly surprised aerospace employment has gone as high as it has in this cycle.
Microsoft and its partner Nokia are potentially big winners in the war between Apple and Google, which clearly was the target of Apple's patent suit against Samsung. A new version of Nokia's smart phone featuring Microsoft's Windows 8 phone operating system is due out next week. The telcos subsidize Apple and Samsung phones and will welcome a viable competitor, and reviews of Win phones have tended to be positive. (I'm the only kid on my block without a smart phone, but I did try a Win-Nokia combination, and liked it.)
I'll try to mention the good news on housing prices from S&P/Case Shiller. Headlines about Seattle-area real estate, in fact, have been mostly positive recently. A major expansion of Lincoln Square in Bellevue is back on the front burner after a four-year haitus. In
Seattle, new residential towers have been announced for Ninth near the Paramount theater and at Second and Stewart.
The agricultural sector of Washington's economy, so important east of the mountains and even in rural areas on the west side, is having a good year, in part because of the drought misery elsewhere. Apple growers, in particular, should get strong prices after freak weather wiped out virtually all of Michigan's crop. The price of wheat is up substantially in sympathy with the shortage of corn because of drought in the Midwest. Hay, an important crop for Washington, brings very strong prices for the same reason.
I may or may not have time to mention an article on Page 1 of the New York Times on Aug. 28 about Amazon Web Services (AWS), Amazon.com's cloud service. The item notes that AWS helps start-ups with little more than a few personal computers to carry out computing tasks that not long ago would have required huge investments in computing power. In time, Amazon's disruption of book-selling and retail may be merely footnotes "to the company's larger and more secretive goal: giving anyone on the planet access to an almost unimaginable amount of computing power."
The article quotes Andrew R. Jassy, the head of AWS, as follows: "We are on a shift that is as momentous and as fundamental as the shift to the electric grid. It's happening a lot faster than any of us thought." The article reports that AWS list 600 job openings on its web site.
AWS is reported to have data centers sprinkled around the globe. A source who declined to be quoted by name — Amazon.com is famously secretive — told The Times that just one of these data centers "has more servers dedicated to cloud computing than does Rackspace, a public cloud company serving 180,000 businesses with more than 80,000 servers." Wow.
p
I may or may not have time to mention an article on Page 1 of the
p