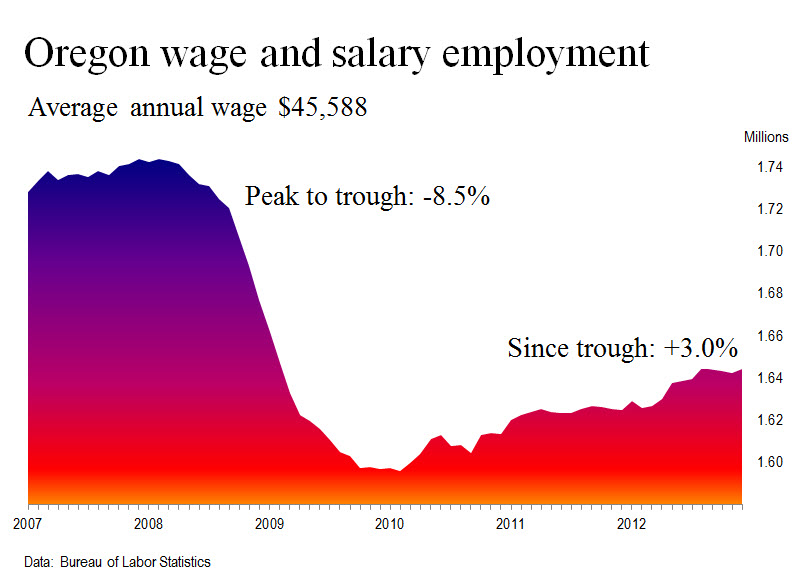 I was asked to say a few words about Oregon's economy at the PEMCO management forum that I addressed on President's Day.
In preparation, I worked up a few Oregon charts comparable to those I use for Washington's economy. The contrasts are dramatic.
The Great Recession and its aftermath cost Oregon 8.5% of its total non-farm wage and salary employment (top chart). The comparable figure for the Evergreen State is slightly less than 7.0%.
In the Great Disappointment (or Contained Depression) since the end of the Great Recession, Washington payrolls have grown by more than 4.1%. Oregon has grown only 3.0%.
Some ways in which Oregon differs from Washington: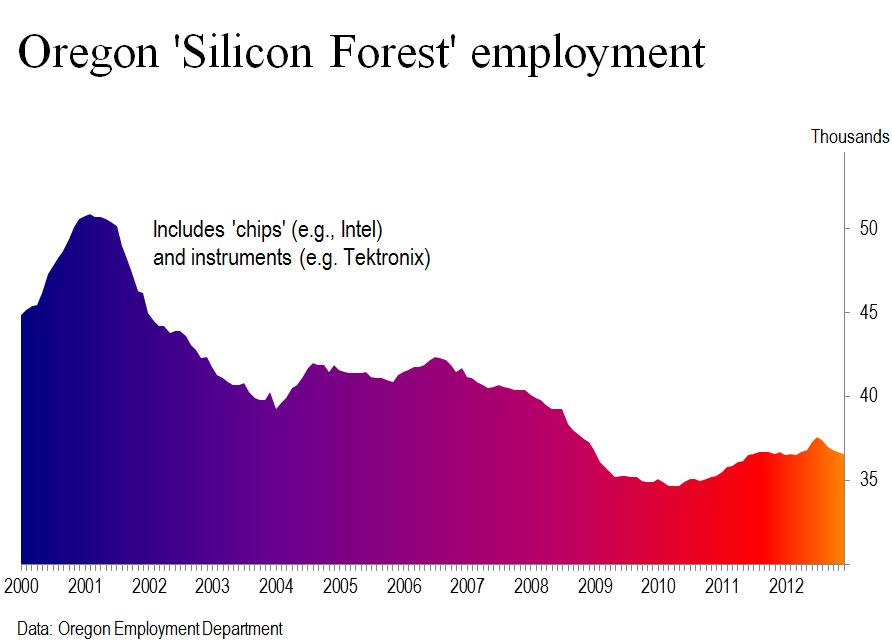 ¶ The booming aerospace industry accounts for about a third of Washington's manufacturing work force. In Oregon, the dominant manufacturing sector is forest-related, both solid wood (lumber, panels, millwork and the like) and non-durable goods such as pulp and paper. Forest-related employment is in secular decline everywhere, not just Oregon, but Oregon is much more dependent on the sector than any other state.
¶ The military is big business in Washington. Oregon, by contrast, lacks major military bases.
Joint Base Lewis McChord, just south of Tacoma, supports 40,000 active duty and reserve members. Its home page describes the sprawling base as Defense the "Department's premiere military installation on the West Coast," with 15,000 civilian employees, support for 60,000 family members living on and off base and 30,000 military retirees.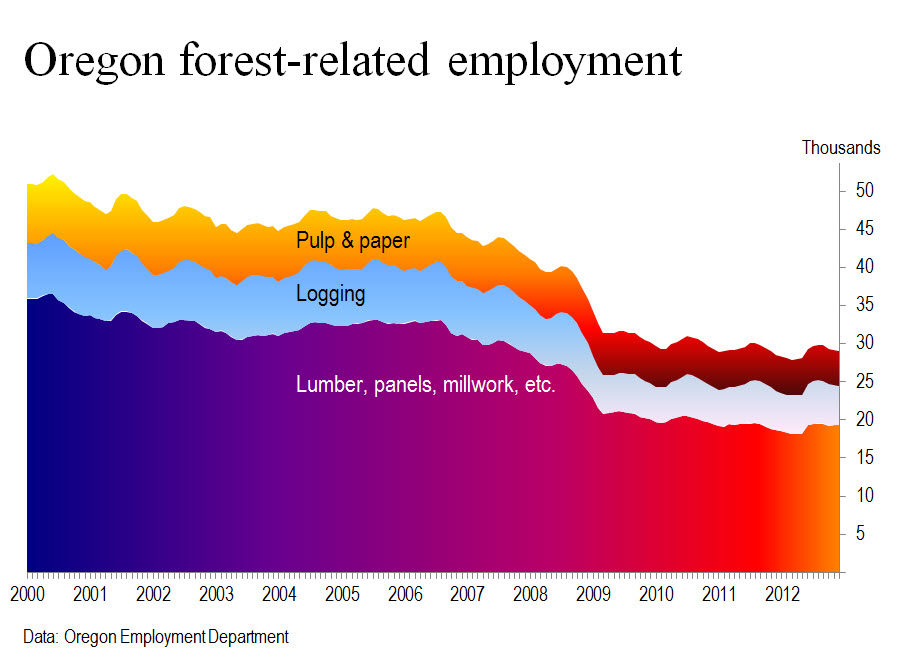 Naval Base Kitsap, a few miles west of Seattle as the crow flies, is home base to nuclear submarines. A Seattle Times report in 2011 said it was home to 13,000 active-duty personnel, a like number of civilian employees and 10,000 contractors.
Naval Air Station Whidbey Island, about 90 miles north of Seattle, according to its web site has a population of 7,500 military, 1,200 civilian employees and 1,200 contractors.
Fairchild Air Force Base near Spokane, according to its web site, supports about 3,000 active-duty personnel, 700  civilians  and 20,000 retirees.
¶ Oregon lacks large iconic companies that are on hiring sprees. I'm thinking especially of Amazon.com and Boeing.
¶ Oregon has no sales tax, which is why you'll often see big-screen TVs being stuffed into vehicles with Washington plates at the Costco store in Gresham. With California, Hawaii and New York, it has one of the highest marginal personal income tax rates in the U.S.
¶ Oregon is big in computer hardware. I'm not sure today, but at one time Intel had more employees in Oregon than in its home state of California. Washington is big in software. Even if Microsoft's best days are behind it, the money is in the software. Hardware just gets a little cheaper each year. Cheap land, available water and electricity and expertise in semiconductors provided a spurt in manufacturing employment in Oregon years ago. But many of those jobs subsequently were eliminated; relatively low wages in China and Taiwan essentially undercut the "Silicon Forest."
¶ Oregon, the nation's largest lumber producer, was among the states hardest hit by the housing bust.