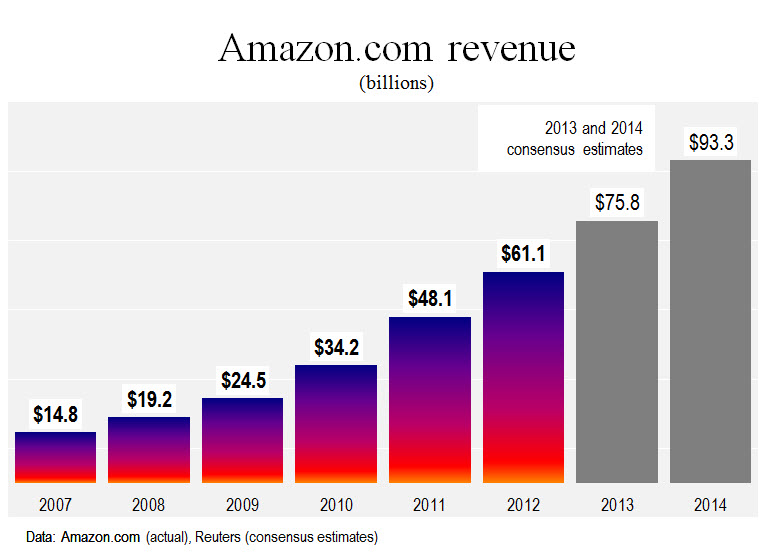 Amazon.com and Boeing dominated the business headlines in the Seattle area in 2012. Looks like we are in for more of the same in 2013.
Eric Pryne of the Seattle Times, the go-to guy for news about Amazon's gargantuan appetite for office space in the Seattle area, reported last week that mechanical work is under way on Amazon's behalf on about 100,000 square feet of space on vacant floors of an older office building on the edge of downtown.
As usual, Amazon, which plays its cards close to the vest, unless you are Fortune magazine with a Business Person of the Year bauble to dangle in front of chairman Jeff Bezos, refused to comment, as did an owner of the building.
The numbers on Amazon's space plans in Seattle have been reported before, but the are still eye-popping. To quote from Pryne's piece
Over the past three years the company has moved into about 2.8 million square feet of new space — 1.7 million at its South Lake Union headquarters campus, plus 1.1 million it leases in four buildings in that neighborhood and the Denny Triangle. Amazon also has agreed to lease another 500,000 square feet in South Lake Union projects that are under construction or scheduled to break ground soon. And it is expected to start construction shortly on the first phase of a three-block Denny Triangle high-rise complex that will total 3.3 million square feet.
All in, including the newly reported project, that's 6.7 million square feet. Perspective? Last I looked Microsoft reported occupying about 10 million square feet of space in more than 100 buildings in the Seattle metropolitan area, mostly on the East Side. Microsoft has about 40,000 employees in the metro area.
Amazon refuses to say how many people work for it in the Seattle area. It reports its head count in quarterly filings with the Securities and Exchange Commission (chart). I can see evidence of Amazon hiring in data available from the state of Washington; my chart combines data from the state's monthly reports on payroll employment and its quarterly census of employment and wages.
Pryne's report said Amazon's web site this week lists 2,800 job openings in the Seattle area. And these are not for warehouse pickers. Read through some of the job descriptions and you soon realize you are looking at positions that pay in the high five figures or even low six figures.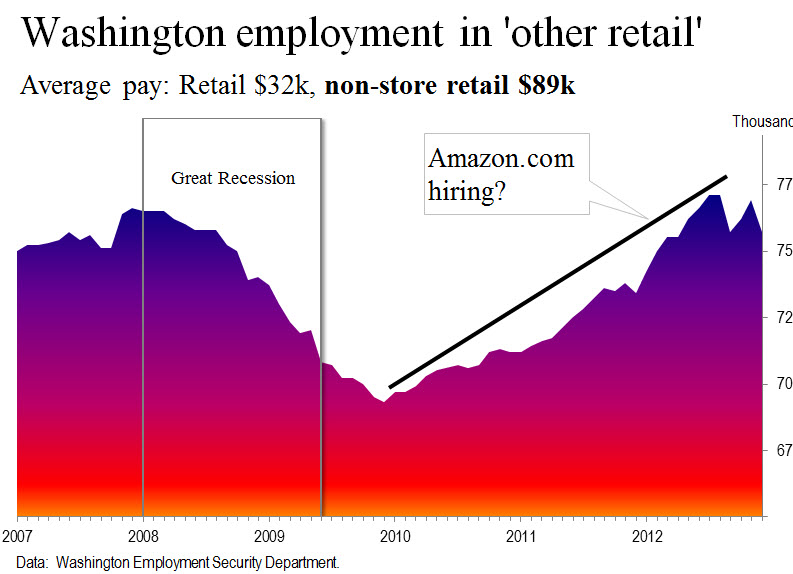 Amazon's revenue grew 27% last year. Consensus forecasts compiled by Thomson Reuters put top line growth at 24% this year, 23% next. On the basis of consensus estimates, Amazon's revenue will exceed that of both Boeing and Microsoft in 2014.
Analysts put Amazon's long-term growth at about four times that of Boeing, almost five times that of Microsoft. That's why Amazon stock sells at more than 180 times the forward per-share earnings estimate, compared with 12 times for Boeing and about nine for Microsoft.
Boeing's troubles with the 787 battery are likely to keep it in the news headlines for all of 2013. I've seen no announcement that Boeing has decided to stop producing 787s pending resolution of the problem, which means that finished jets will continue to pile up at both Everett and Charleston, S.C.
Wall Street seems sanguine about the problem. Boeing stock is trading about where it was when the 787 fleet was grounded in mid-January.
Aerospace employment in Washington State is no doubt higher than it would have been had Boeing's global supply chain on the 787 worked as intended. Especially if the company has to redesign the entire electrical system to accommodate a new and perhaps heavier battery on the 787, employment could go even higher still.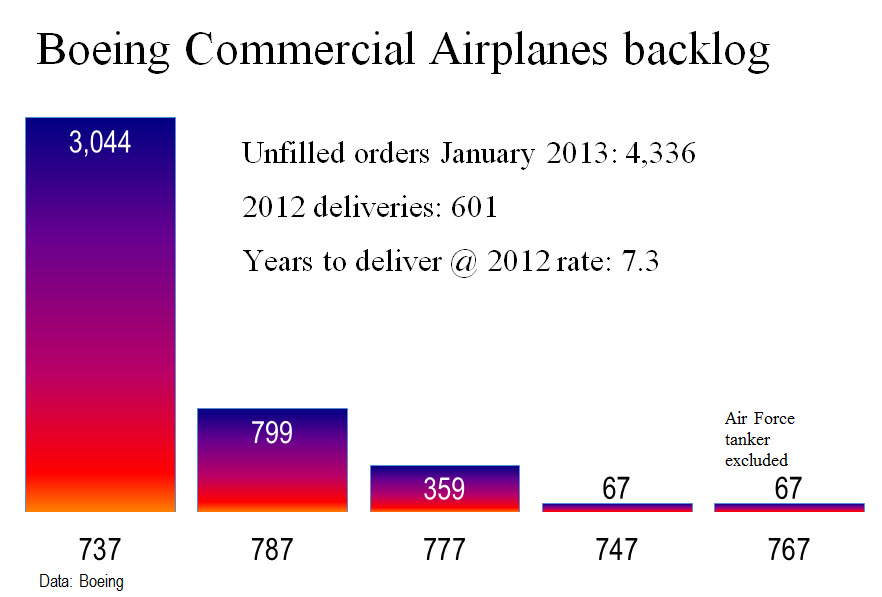 Boeing's impressive backlog, more than seven years of production at the 2012 rate, remains intact. The customers need the high fuel efficiency that is the 787's main promise.
On the economy generally, developments lately have been mainly on the positive side of the ledger. New data suggest the U.S. economy did not contract in the fourth quarter, as originally reported, but grew at perhaps at 1% rate. Nothing to write home about, but it beats a decline.
China seems to have avoided a hard landing that had China-watchers so worried last year. Bond spreads in Europe have declined. The declaration by the head of the European Central Bank last summer that he will do "whatever it takes" to save the Euro has had its desired effect. Europe is far from out of the woods; it needs faster economic growth. But it is no longer on the brink of disaster.
Not that there aren't a lot of things to worry about, including continuing political dysfunction in Washington, D.C. Japan's effort to weaken the yen so as to improve opportunites for exporters, raise Japan's growth rate and, indeed, to cause a bit of INflation, stirs talk of currency wars.
When it comes to monetary policy, the U.S. is in uncharted territory, in the fifth year of 'N-ZIRP', the Fed's near-zero-interest-rate policy. We have not seen this movie before, and we do not know how it ends.