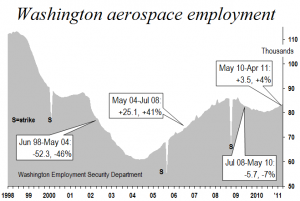 The news that Boeing will add 1,200 employees at Renton, south of Seattle, amounts to a significant plus for the Puget Sound Metropolitan area. It is another sign that Boeing has rediscovered the worth its Washington-based work force, even as it is on the cusp of starting up a Dreamliner factory in South Carolina, a right-to-work state where it will be free of nuisances like unions.
The International Association of Machinists, a strong union that represents Boeing's blue-collar work force, has struck three times since 2000. After the first, Boeing HQ decamped to Chicago (September 2001). In the years that followed, Boeing decided an entirely new business model for its newest jet. No longer would a work force of more than 100,000 make airplanes on the shores of Puget Sound.
Instead, Boeing would ship all-digital instructions to far-flung low-cost factories around the world. Instead of airplane-maker, Boeing would become systems integrator. A much smaller Puget Sound-area work force would be limited to snapping outsourced parts into place like Tinker Toys or pieces of Lego.
We know how that turned out. The 787 is more than three years late. Boeing has been bulking up its work force at Everett in a scramble to get the 787 into commercial delivery.
Over the past year, senior Boeing executives have admitted in public that the 787 business model was deeply flawed. And they have shown increasing appreciation for Washington aerospace workers.
At the Farnborough Air Show in England last July, Pat Shanahan, Boeing vp in charge of airplane production, told the Seattle Times: "I love Renton." That was a favorable omen. Since then, Boeing has begun increasing production of 737s from roughly 30 a month to 34 soon and to 38 by 2013.
Of the engineering talent that has worked for years on the 787 and a new iteration of the 747, Jim Albaugh, Boeing Commercial CEO, said last July,  "The last thing we want to do is have them go out the door because we don't have work for them."
Don't expect Boeing ever to play softball. The company CEO, Jim McNerney, said at the time of Shanahan's comment that workers in the Puget Sound region will have to continue to remain competitive. He nixed an idea — guaranteed work — that is likely to be on the machinists' shopping list when the company and union meet at the bargaining table next year. Boeing is hiring at Everett and Renton because it needs more pairs of hands to get the work done. Any way you slice it, that's good news for the Puget Sound metro area.