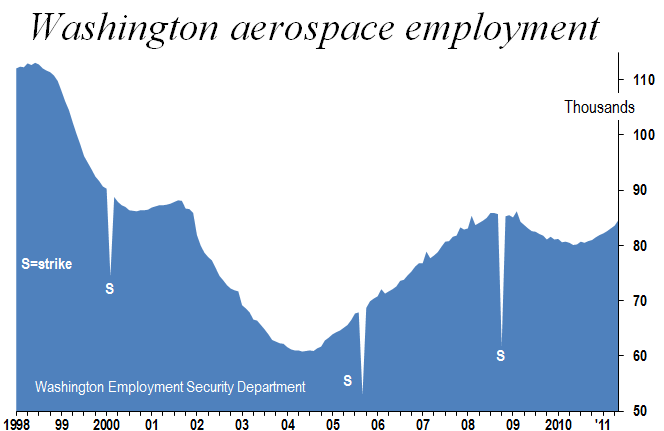 The U.S. economy may be growing so slowly it is hard to find a pulse, but things are different in the rest of the world. The global economy continues to grow, and at a decent pace.
Once people get their basic needs for food, clothing and shelter covered, they want to travel. Most commercial planes flying today were not designed for today's high fuel prices.
Those are the building blocks for Boeing's announcement June 15 that it will increase 737 production to 42 planes a month by the second half of 2014.
Boeing had already tipped its hand with word a month ago that it would be adding 1,200 employees over the next couple of years at Renton, where the 737 is assembled. Boeing currently assembles about 31 planes a month at Renton. Boeing previously announced rate increases to 35 a month by next spring and 38 a month the following spring.
Boeing is surely counting on increased productivity over time at Renton, where about 10,000 now work. I will not be surprised if the head count there eventually goes beyond 11,200. It will many more pairs of skilled hands to turn out two 737s every working day. The production-rate and head-count increase are obviously tremendously positive news for the Puget Sound metropolitan area and Washington State. They take some sting out of  news that Washington's economy shed jobs in May.
As the chart shows, direct aerospace employment in Washington, mostly at Boeing, but also at machine shops and other suppliers, is far below the peak reached in summer 1998. At that peak, aerospace jobs accounted for 31% of all manufacturing jobs in Washington State, and 4.4% of all wage-and-salary jobs. (At the beginning of the 1990s, the sector accounted for 5.4% of all payroll jobs.)
The six-year cyclical decline that was accelerated by the aftermath of the terrorist attack on the United States on 9/11 eliminated more than 52,000 high-paying aerospace  jobs. Peak to trough, the decline was a punishing 46%.
From the trough in the summer of 2004, the aerospace sector added about 500 jobs a month at a steady clip right up to the time the International Association of Machinists struck Boeing in September of 2008. IAM timing turned out to be terrible. Within days of picket lines going up, the banking crisis that had been gathering steam since the peak of the housing bubble in late 2006 erupted spectacularly. Lehman Brothers Holdings was deemed not too big to fail, the banking system froze everywhere, and the global economy raced off a cliff.
As far as Boeing is concerned, that's ancient history. The company's newest annual forecast for commercial airplanes, just out, predicts that 33,500 new passenger and freighter airplanes will be delivered over the next 20 years. While big airplanes like the double-decker A380 and Boeing's 777 tend to grab the imagination and get a lot of ink, most new deliveries will be single-aisle planes like the 737. Boeing says 40% of all new deliveries over the next 20 years will be for replacement. Drill down into the CMO spreadsheets, and you will find that three of four airplanes flying today will have been retired and replaced in the next 20 years. Given fuel-price trends, I am not surprised.
Aerospace employment today accounts for 3.0% of all payroll jobs in Washington. Head count in the sector likely will overtake the August 2008 high by the time kids are back in school in the fall. Partly because of outsourcing, even at a diminished level, but also because of higher productivity, I doubt the sector will ever again reach or exceed 100,000.
Keep your eye on the calendar. The contract that settled the 2008 machinists' strike will be up in September 2012. Jon Talton, the Seattle Times economic columnist and an acquaintance, sees the possibility of a "Grand Compromise" that will keep Boeing assembly jobs in the Puget Sound area for as far ahead as the eye can see. I hope he's right on that score. He's surely right to say that the competition for these high-paying jobs comes not from right-to-work states in the U.S., but from China.
.