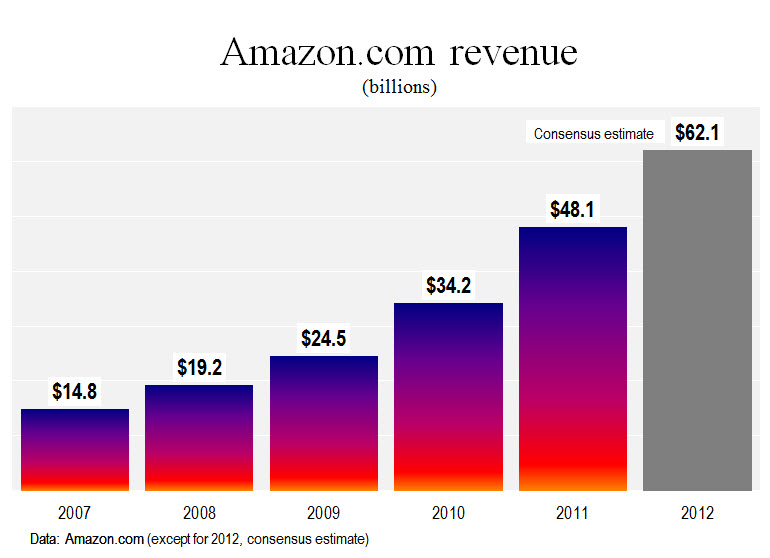 I've been working on some new charts that I will present to U.S. Bank customers in Bellingham Tuesday. I'm on a panel for the bank's 23rd annual economic outlook forum.
I plan on saying what I have said in this space and on KUOW's air: Amazon.com's hiring and building sprees are tremendous pluses for the economy of the Puget Sound area and Washington State.
I've blogged on more than one occasion about Amazon.com's hiring spree. A head-count chart updated through the September quarter is here. Note that it excludes temps and contract workers.
In the process of ginning up a new chart of Amazon.com revenue by year, I notice that based on consensus estimates Amazon.com's top line will overtake that of Boeing in 2014 and Microsoft in 2015.
The bottom line, of course, is a different story. Because it is investing like crazy, Amazon reported a rare loss in the July-September quarter. As Fortune reported in its December cover story on Amazon — it named chairman, president and CEO Jeff Bezos "businessperson" of the year — Amazon has a business model that is the exact opposite of Apple. The latter uses its platform ("walled garden" to skeptics) to push high-margin hardware. Amazon sells books and all manner of goods and services at low margin to pump high volume into its platform.
Value Line estimates Amazon.com will earn only $150 million for all of 2012, just two tenths of a cent on each dollar of sales. Microsoft will bring roughly 31 cents of each dollar of sales to the bottom line. Boeing's after-tax margin is expected to be in the neighborhood of of 4.5%. Wall Street doesn't mind this low-margin strategy. Amazon's market capitalization of more than $100 million is more than twice that of Boeing.
As for Microsoft, it says something important that the Economist magazine did not include Mr. Softie in its cover illustration (cover-dated Dec. 1-7) of the "internet's warring giants." The fast-growing companies waging fierce battles for the mind-share and attention of billions of consumers are Apple, Google Amazon.com and Facebook. Microsoft is an also-ran. Microsoft desperately needs a major take-up of its new operating system as well as success in new hardware (phones and tablet computers) to get back into competition with the Big Four. Don't bet on it.
Amazon.com is a major component of Washington's large and diverse high-technology sector. We don't have a formal high-tech employment index in Washington that I know of. So I created a proxy using Washington's monthly payroll-employment head counts.
In this back-of-the-envelope high-tech index, I included employment in the manufacture of transportation equipment (in Washington, that's mainly airplanes and heavy-duty trucks), as well as, naturally, the manufacture of computers and related electronic equipment (an example would be Fluke Corp, maker of test and measurement equipment owned by the conglomerate Danaher).
I also included software publishing, computer systems design and related services, as well as employment in electronic third-party sales and "other retailing," which is where Amazon.com employment is tallied.
You can see from the chart that employment in these high-tech sectors was growing more rapidly than in other parts of the economy before the Great Recession. High-tech was, of course, not immune to that recession, but has grown much faster than the rest of the economy since about mid-2011.